I'm BACK!!!
I can't believe it's been over 2 months since my last post :( I have no excuses other than Life - it happens! Flu's, runny noses, sinus infections, runny noses, wedding showers, runny noses... you get the picture. But don't you worry, I have a few things I worked on during my hiatus that I'm planning to post soon - hopefully:)
OK. Now on to the good stuff...
Here it is! My lovely new clock!
Isn't she pretty?!?
I had SO much fun making it!
I'm still thinking that I may add some numbers to her (the 12, 3, 6, & 9) but I'm not completely sold that I need them. If I decide to use them I'm going to hit up the mailbox/house number section at the hardware store first. Craft store sticker/decal section, second. I'm thinking something in an oil-rubbed bronze tone would look nice if I opt for the numbers, but only time will tell! Sorry, couldn't help myself : )
Supplies I used for this project:
Burlap (I bought a yard for $3.99 at Hobby Lobby
12 x 12 Scrapbook paper ($0.50 from Hobby Lobby)
Stiff card stock or cardboard, same size as scrapbook paper
Scissors
Painters tape
Total cost for this project was less than $4.50 since I already had most of the items on hand. By the way, I only used about 1/3 of the burlap for this project so you could say that it only cost me around $1.83 - not that I'm keeping track or anything : )
Tutorial for this project:
Remove movement from clock. (You can purchase one from the craft store if you don't have an old clock lying around in your basement.)
Remove backing, mat, and glass from picture frame.
Lay out burlap on large flat surface.
Lay picture mat on burlap and tape down in a few spots to prevent it from slipping around all over the place.
Use scissors to cut an "X" in burlap within the mat opening. Leave about a 1/4 inch of fabric between corners and "X" as the burlap will fray a bit and you don't want it to show on the other side.
Add the burlap covered mat to the picture frame.
Now for the clock movement part...
Take your stiff card stock or cardboard and find the middle by using a ruler.
Mark the middle with a pencil or pen.
Use something sharp like a tack or a nail to make a hole on your mark.
Use a sharpened pencil or pen to make the hole large enough for your clock movement by pushing the point into the hole and twisting.
Now lay your scrapbook paper on top of the card stock or cardboard you've just added a hole to and make sure the edges line up.
Create a hole in the scrapbook paper using the same method as you used for the card stock/cardboard while being careful not to tear the scrapbook paper as you WILL see it when the clock is finished.
Now add the clock movement and secure to cardboard/card stock side (I used tape).
Add movement & paper piece to picture frame front side down. Be sure to center as much as possible. Tape to mat in
a million
several areas to secure.
Lastly, push in "prongs" to secure the mat to the frame. YOUR DONE!!!
Now all that is left is to find a place to hang/lean/prop it!
I hung my clock on the frames hanger. I would not advise hanging it from the clock movement's hanger (if there is one) especially if you used tape for all of your securing needs : )
So, there you have it! Now it's your turn to make your own unique and true-to-you clock.
Until next time...
Linked up to: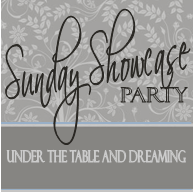 This project was featured at...
This project was featured at: