Here is another fun treat I made for our in-home Easter Egg Hunt.
Inspiration from
Martha Stewart
. I didn't read her tutorial. I just winged it.
These were super easy to make and I was able to produce 15 in hardly any time at all - once I figured out my technique : )
Here's what you need:
Green construction paper
Scissors
Tape
Suckers
First step, cut/tear off a strip of crepe paper. I didn't measure but I'd say around 12 to 14 inches. Lay your sucker at the end like so:
Now, twist until you create a carrot-like shape. Tape to secure.
Next, cut a longish, thin strip from your green paper. Hold onto the middle of the strip with your thumb and forefinger. Use scissors to cut both sides down the middle stopping at your fingers.
Fold strip in half, at an angle.
Apply to top of "carrot" with tape. I gently crinkle folded my tops but you could leave them as is.
Viola! Your Done!
I'm planning on making more for Easter Basket fillers.
I also made "carrots" out of Baby Biter Biscuits (Teething biscuits) for the Baby Section of the Easter Egg Hunt. Some other "carrot" filler ideas would be to use granola bars, cereal bars, string cheese (keep refrigerated), or fruit roll-ups. Pretty much anything long and skinny should work.
Some paper, tape, and 15 minutes of my time to make something a little healthier than candy fun to eat is worth the extra time in my book!
Until next time...
Linked up to: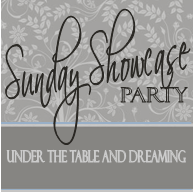 And somehow managed to delete the post title as I submitted : )
This project was featured at: